Why do businesses need bulk signing?
Statistics show that companies spend around 65% of their time signing documents. Cygnature automated bulk signing solution can:
Enable digital signing of sensitive documents like invoices, bank statements, challans (invoice, summons or receipts) and many more
Enable automated signing of documents which minimizes human intervention
Enable automatic signing of thousands of documents while staying compliant
Reduces cost by effectuating a paperless office
How does Cygnature bulk signing solution work?
Cygnature bulk signing solution offers both server-side signing and API-based signing
Cygnature server side signing workflow
Step 1
Cygnature offers a DSC signing service, which works as a window service on the server
Step 2
The user is supposed to create a specified input folder
Step 3
The DSC signing service automatically picks and digitally signs the PDF files found in the specified input folder
Step 4
The signed PDF files are then placed in the output folder and sent to the configured email address of the recipient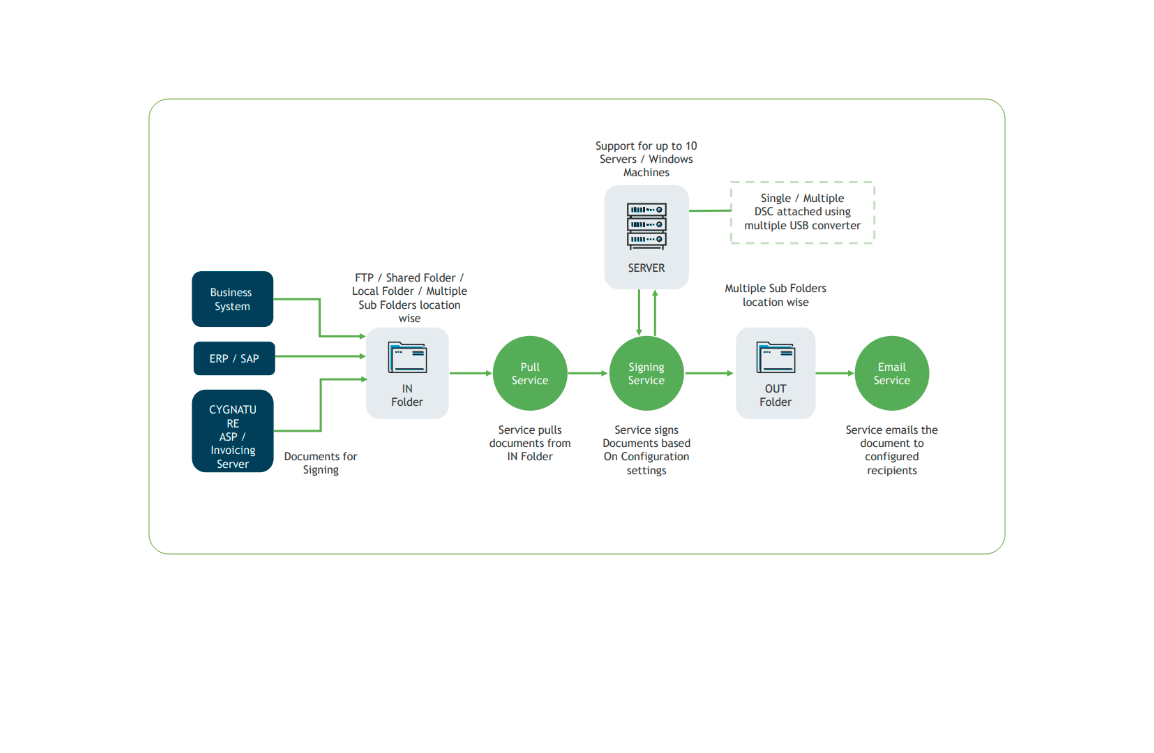 Cygnature API based signing workflow
Step 1
The clients' ERP system calls for the DSC signing service via an API
Step 2
The required PDF file is sent to the application via an API
Step 3
The API accesses the DSC service and signs the PDF file instantly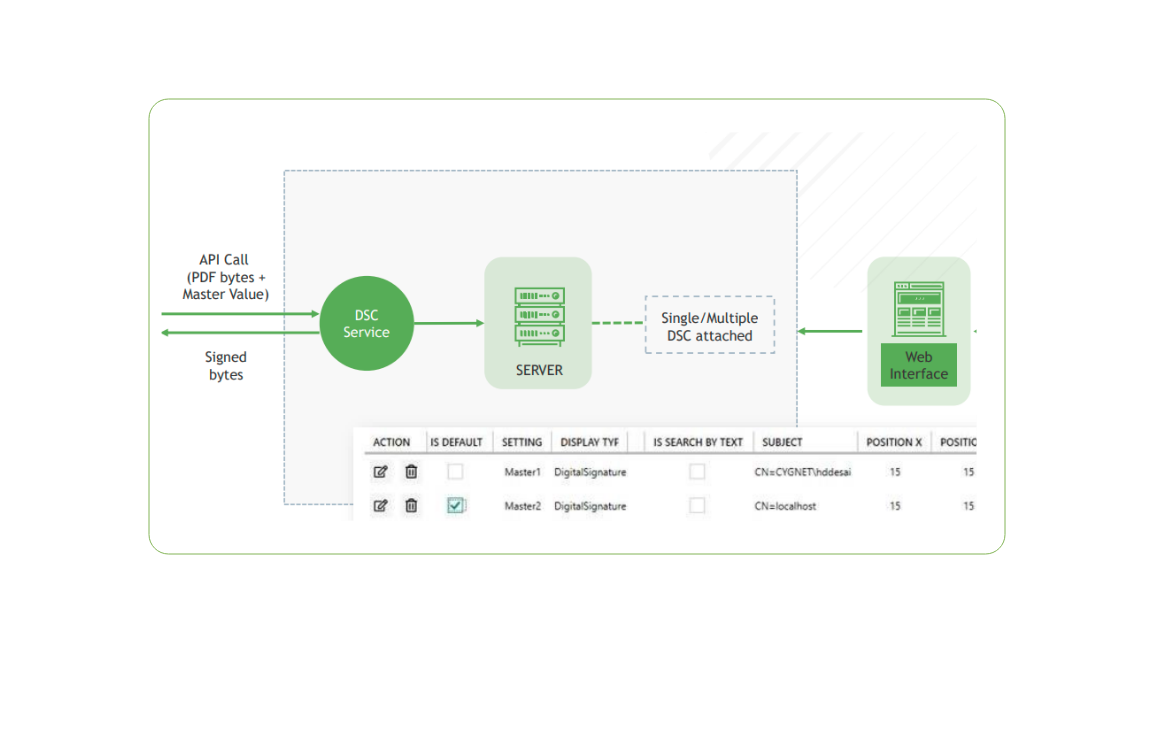 Why Cygnature bulk signing solution?
Affix Signature from USB dongle or PFX file
Support single and multiple DSC in one server
Support multiple signing profile
Support different DSC for different document categories
First / last / custom page signing
Set X-Y coordinates for signing
Location wise PDF and signature management
Active directory integration and much more
Uses of bulk signing
Bulk signatures are used in many different industrial sectors. Some important sectors that can benefit enormously by adopting automated bulk signing solution are:
BFSI industry
For the BFSI industry, bulk signing accelerates the signing of invoices, credit card statements, bank statements, mutual fund statements, financial instruments, and much more while helping them stay compliant with the e-Signature law and regulations.
Manufacturing
Manufacturing units, where there is a regulatory requirement to sign GST invoices, credit notes, debit notes Cygnature's bulk signing solution enables the manufacturing firm to digitally sign invoices in an automatic mode and send them all to customers in one go.