What is UAE PASS?
In October 2017, smart Dubai signed an MoU with TRA, to develop a single trusted digital identity. UAE PASS is a digital identity solution in the UAE. The online equivalent to the real identity of a person or entity. Mainly used for remote identification before consuming any online service.

UAE PASS is the first national digital identity, for all citizens, residents, and visitors, allowing you to digitally sign documents. The UAE PASS signature is legally binding and is equally valid to a written signature. The entire UAE PASS infrastructure is a secure environment with various security measures put in place to protect individual's identity and signature.
Cygnature and UAE PASS
Cygnature has integrated the key feature of UAE PASS for our UAE based citizens. It will enable seamless digital signing of documents with valid UAE PASS.
Prerequisites for signing documents using UAE PASS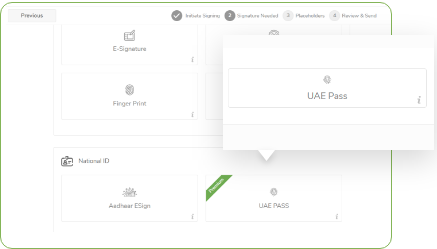 Valid UAE PASS
Citizens and residents with a valid Emirates ID card are currently the only users eligible for UAE PASS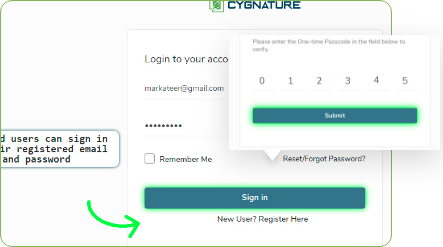 Cygnature account
You need to have a subscription of Cygnature account to sign documents using UAE PASS
Documents you can sign using UAE PASS
Sales
Sales contracts
Invoices
Partner agreements
Purchase
Purchase contracts
Purchase orders
Invoices
Legal
Industry specific
Agreements
Legal documents
Human resources
Onboarding documents
Vendor contracts
Reliving documents
Operations
Work orders
Multi-party agreements
Financial documents
Benefits of signing using UAE PASS
Secure user authentication