Reading Time:
3
minutes
We were pleased to see several pharma CXOs talking with us at the event and delighted to have accomplished our goal of underlining the importance of 21 CFR part 11. We spoke with more than 50 executives and explained how Cygnet Infotech might assist them in adhering to the guidelines.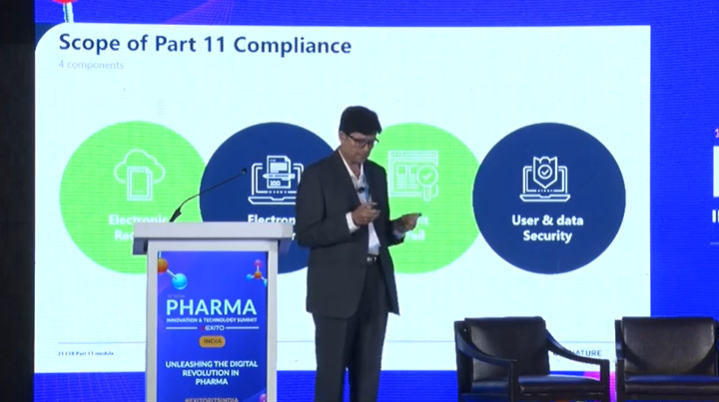 Check out how our presentation on 21 CFR part 11 totally captivated the audience and emerged as the #PharmaIT Summit 2022's breakout star.
The Pharma IT Summit, in its 13th Edition, was focused towards reimagining the scope of the pharma industry by bringing together some of the most distinguished experts from regional and global organizations to discuss what the industry needs to do to progress on this journey, and what would be the role technology playing in India's growth. As the name suggests, it was all about the perfect collaboration between the pharmaceutical and IT industries. The conference mainly focused on topics such as AI & ML revolutionizing the Pharma Industry, Pharma 4.0: Redefining the future of the Pharma industry, Pharma Bolstering its future supply chain, and much more.
Cygnet Infotech, a leading digital engineering services company, was the Keynote Partner at the 13th edition of the Pharma IT Summit 2022, at the JW Marriott, Sahar, Mumbai. As the Keynote Partner, Cygnet Infotech headlined the speaking session on, "WHY, WHAT and HOWs of 21 CFR Part 11 compliance," and emphasized the importance and adoption of the regulation for the Pharma and Life Science companies.
Yogesh Lokhande, Vice President – Products & Business Head Cygnature, Cygnet Infotech deep-dived into the topic in the first half of the summit. He said, "During the event, it was nice to interact with the Pharma IT fraternity and learn about their objectives for digital transformation and Part 11 compliance. Cygnet's solutions can provide a lot of benefit to the pharmaceutical industry by accelerating their digital transformation journey by utilizing their 21 CFR Part 11 compliance, digital engineering services, and tax technology products and solutions".

It is time the Pharma industry begins digitalization aggressively. Technology can help in multiple areas of operations, supply chain, manufacturing, and regulatory compliance. We at Cygnet Infotech are eager to support such digital initiatives with our expertise in various emerging technologies."
Our team had an amazing time interacting with 50+ leaders across the Pharmaceutical and Life Sciences industry. We interacted with industry leaders from multinational organizations such as Dhirubhai Ambani Life Sciences Centre, Piramal Pharma Limited, Unilever Limited, Sun PHARMA, and many more. Here, we helped the pharma organizations with a detailed understanding of 21 CFR Part 11 and its regulations through our presentation as well as one-to-one interaction.
Cygnature:-
Cygnature is an award-winning digital signing solution that allows businesses across banking, insurance, healthcare, real estate, and other industries to create, send and sign documents on any device, anytime and anywhere. Powered with emerging technologies such as Blockchain, this solution allows transparency in the signing process by tracking every stage from document creation to signing for a secured process. Also, Cygnature's CFR Module helps Pharma companies and Medical Equipment Manufacturers to stay compliant with the FDA's 21 CFR Part 11, EU Annex 11, and GAMP-5 guidelines.
Cygnet Digital Engineering Services (DES): –
Cygnet DES helps clients in formalizing the development, integration, incorporating technological innovation, to ensure that the client organization is ready for the future. Cygnet DES follows agile practices for faster releases through its Quality Engineering Services, strengthening product-centric value-driven elements through continuous integration, and deployment with Cygnet DES DevOps Services. Cygnet DES develops, secures, and regulates the multi-cloud platforms with its Cloud Solutions, and enables structures and data-driven decision-making through its Analytics and Data Engineering capability, including data extraction, Business Intelligence, & Data visualization.
Cygnet Taxtech:-
Cygnet TaxTech empowers businesses with global tax rules and functions where they can use a single platform and its features to file tax returns on time, keep track of deadlines and stay on top of compliance.