Reading Time:
5
minutes
Is document digitization on your priority list? What type of e-signing solution will be the finest for your business? Go paperless with the best of the e-signing solutions!
E-signing solution helps organizations to digitalize their paperwork. It can let both the parties come together and sign the document digitally. Regardless of the type of paperwork, e-signature solution helps the employees or customers to sign documents electronically.
The finest e signature platform helps in automation and simplifies the signature processes along with providing better customer experience and well-crafted document management. In this document, we have listed a comparison chart of top e-signing solutions built keeping the focus on certain critical features like ease-of-use, platforms supported, types of documents supported, security, etc.
Cygnature and all the other well-known e-signing platforms are comprehensive digital solutions for your signing needs. Check out all the features of each of these solutions and check which of these suits your requirements.
Cygnature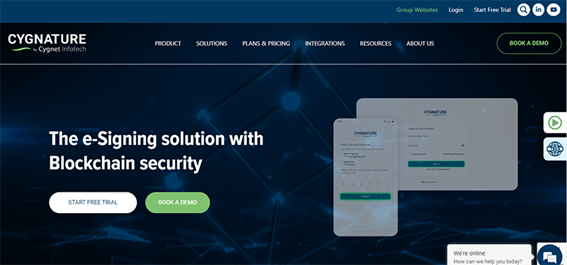 Cygnature by Cygnet Infotech is a blockchain-based digital signing solution that securely authenticates signers. With Cygnature, users can sign documents from anywhere, anytime using any device quickly. It is a feature-rich solution that provides APIs for seamless integration with business systems. It provides enhanced security, greater transparency, and improved traceability of the signing process, along with authentication of signer's identity.
Signing documents
Cygnature lets the users sign documents using multiple types of signatures. A user can choose the type of signature from various options available based on the sensitivity of the document & the level of authentication that is required from the signer.
Sending documents for signing
Cygnature lets you upload documents from a variety of platforms. You can also set advanced options when sending documents for signing like reminders, due date, etc. It also helps you with the facility to create groups to send documents to sign or you can even send multiple documents for bulk signing.
Security and Blockchain stamping
With Cygnature, you don't need to worry about the security as it comes with Blockchain security for the documents where all activities on a document are stored on blockchain and all activities on the document are tracked & time stamped.
Mobile application
Cygnature lets mobile application users sign documents from anywhere in the world and anytime within 60 seconds. The Cygnature mobile app supports various features and options which gives them a simplified signing experience.
Integration
Cygnature lets you integrate eSignature APIs into your systems seamlessly and with high flexibility. The team provides every kind of assistance from API documentation to the implementation process.
Admin management
Cygnature brings in quick and easy to view admin access that allows users to see all activities, profile section, documents, manage subscriptions, etc. with minimum clicks.
Pricing – start $110 yearly
SignNow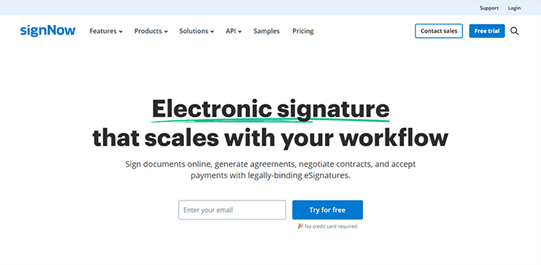 SignNow is an enterprise-grade eSignature solution that scales with your workflow. The team at SignNow build tools that empower individuals and businesses to digitize their approval processes while eliminating errors and creating productive teams. It also allows you to integrate eSignatures into the apps and systems used by their customers.
Add a Signature Block to PDF
Add a signature field in the document and get your document ready for signing. SignNow allows you to add a signature block to your PDF by dragging and dropping it anywhere on the document and customizing it.
Add a Signature from Your Mobile Device
SignNow lets you sign documents on the go with signature for mobile devices. It also lets you draw your signature or capture it with a webcam.
Add Multiple Signers to Your Document
Use signNow to get your document signed by multiple recipients. Add multiple signers, set the order of signing and add email reminders for recipients to sign your document on time.
Add Wet Ink Signature Online
SignNow allows the user to add fields, assign roles and add your wet ink signature by typing, drawing or uploading it from your computer.
Easily Sign Documents Online
Use signNow to easily sign documents online by typing, drawing or uploading your signature. Once you've created a signature, save it for future use or for signing additional documents.
Make Content Changes and eSign in PDF Editor
Make any needed changes in a PDF document. Open your document in a PDF editor, drag and drop any fields, add text and your signature in seconds.
Pricing – starts at $96 yearly
PandaDoc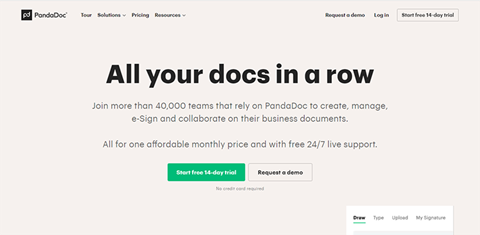 PandaDoc is an eSignatures tool that empowers teams to easily communicate with customers through personalized documents that can be created in minutes, build meaningful relationships, and save more time.
Signature Request
PandaDoc allows you to easily request eSignatures for any document.
Document Tracking
With PandaDoc, you get status updates in real-time even after you have sent the document for eSignatures.
Signing Order
This tool also lets you set up your distribution list so that they can be sent to one person at a time.
Pricing – Starts at $2/document
DocuSign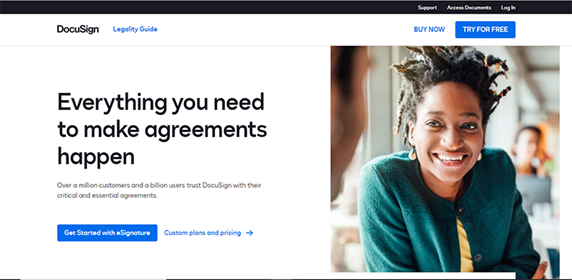 DocuSign is an eSignature tool that works towards accelerating business and simplifying life for companies and people around the world. It helps organizations connect and automate how they prepare, sign, act on, and manage agreements.
Document Creation
DocuSign offers features that make our documents both widely compatible and widely accessible.
Signing Workflow
DocuSign lets you specify and order any number of signers. Assign recipients different roles and access beyond signing permissions — you have control over every step of the process.
Signer Authentication
Make sure your signers are who they say they are. Multiple levels of authentication increase the thresholds required of signers to prove their identity before given access to documents.
Sending and Signing Experience
Send documents with DocuSign and have your customers sign and send back your document within a matter of minutes. Sending and signing is fast, easy and intuitive.
Pricing – Starts at $120 yearly
Dropbox Sign (Previously HelloSign)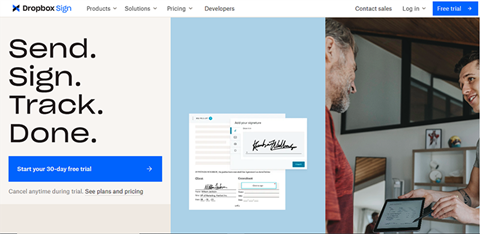 Dropbox Sign is an eSignature solution that helps you securely sign documents online.
eSignatures
Dropbox Sign provides an easy-to-use solution to send documents for signatures.
Sign & Fill PDFs
Dropbox Sign makes it incredibly easy to safely and securely sign PDFs online.
Signature Maker
Dropbox Sign helps you create a custom handwritten Signature of your name in just a few easy steps.
Pricing – Starts $180 yearly
Conclusion
Figure out the requirements of your business and choose the most appropriate solution. E-signing your documents is now quicker and easier than ever before, with the right eSignature solution.