Reading Time:
11
minutes
Living in a digitally connected world entitles us to certain benefits. Today, we can get things done swiftly; businesses move at very fast paces, deals are made within seconds, bank transfers occur within the blink of an eye etc. So, how can we afford to lag when it comes to signing documents, primarily through electronic signature? Let us first understand the importance of signature before moving on to electronic signature.
A signature authenticates a document, and hence, it is a standard mandatory requirement everywhere. From deals, partnerships, and collaborations between businesses to employee signatures on various documents, management sanctions, etc., the one thing common is the need for a signature. Yet, we can hardly afford to wait for a person to be physically present everywhere just to sign on a document or even scan, print, email or courier the same. Neither is the process efficient nor is it effective. It will also lead to innumerable delays resulting in increased costs and sometimes can even lead to the cancellation of the deal.
The need to avoid all these inconveniences led many to realize the importance of the electronic signature. Today the electronic signature is being extensively used to:
Enable an improved signing experience
Automate business processes
Eliminate delays in getting work done
But despite its usage not many know much about the nuances of electronic signature or how they work. Let us take a brief look at the different aspects of the electronic signature and why it is fast becoming a global phenomenon.
This extensive guide on electronic signatures covers
What is an electronic signature?
Different countries officially define this in many different ways. Simply speaking, an electronic signature is the process of signing and authenticating digital documents. This can be achieved in a variety of ways. But irrespective of the way used, it should mark the required digital document and there must exist a logical connection between the document and the signatory. Thus, the electronic signature is legally binding, incredibly efficient and extremely cost-effective.
The open-ended definition used by almost all countries across the world and the ambiguity in the legal interpretation of the term, has made electronic signature an umbrella term used to denote a variety of ways of signing digital documents. Some of the common ways included indicate:
The standard electronic signature
The digital signature
The handwritten signature in an electronic format
Is electronic signature legally binding?
The electronic signature is legally binding on all parts of the world. In India specifically, the GOI or government of India is actively seeking to encourage and enhance the use of the electronic signature. Today many different government and professional bodies have endorsed the use of electronic signature based on the guidelines provided in the IT Act. The popularity of the electronic signature was further enhanced by an amendment made to the IT Act in the year 2008 wherein Aadhar-based electronic signature was introduced.
Currently, the Indian Law states that a handwritten signature is not the only way to validate a document. Irrespective of whether two parties reach an agreement verbally, physically on paper or electronically, a contract is said to be valid.
While the IT Act endorses the electronic signature, there are only two forms of the same that are valid in India. They are:
Aadhar e-sign wherein the electronic signature is verified by availing of the Aadhar eKYC services
Digital signature certificate or DCS, issued within a USB dongle
An asymmetric cryptosystem was used to create the DSC and involved making use of pair of keys, a private and a personal key, both of which are highly secure and unique to a user.
However, the DCS has an expiry date after which it has to be reissued.
Other countries like the USA, UAE, Europe and South Africa also endorse the electronic signature legally. However, they are also bound by certain rules and regulations like:
USA: An electronic signature enjoys the same legal status as a hand-written signature under the state laws of all states of the Republic of America. This status was initially formalized through the UETA or the "Uniform Electronic Transactions Act" of 1999 and adopted by 47 out of 50 states. The ESIGN Act, a successor of the UETA Act, was brought into effect in the year 2000. The 3 states that have yet to adopt the UETA are Illinois, Washington, and New York. These states have formulated their laws to govern the use of electronic signatures while maintaining their legality.
UAE: The introduction of Electronic Commerce Law in the year 2006 recognized and legalized the use of electronic signatures in the UAE.
Europe: The EU introduced the eIDAS or the "Electronic Identification and Trust Services 910/2014" in the year 2016 to legalise the use of the electronic signature.
All EU countries adopted the same and it came into force on the 1st of July 2016.
South Africa: The adoption of "The Electronic Communications and Transactions Act" in 2002 legalized the use of the electronic signature in South Africa.
Are electronic signatures the same as digital signatures?
While both the terms are used interchangeably and both are used to authenticate documents, there are certain glaring differences between the two.
Electronic Signature
The electronic signature refers to the digital form of the wet-ink signature. It is secure and legally binding but does not follow any form of coding or is not based on any standards. An electronic signature can either be in the form of a symbol, an image or a process that is attached to a document or message to authenticate its identity and give consent. It is used to verify documents.
Since it does not undergo a process of validation by either a trusted certificate authority or trust service provider, it is usually not considered to be an authorized form of signing. But it is easy to use.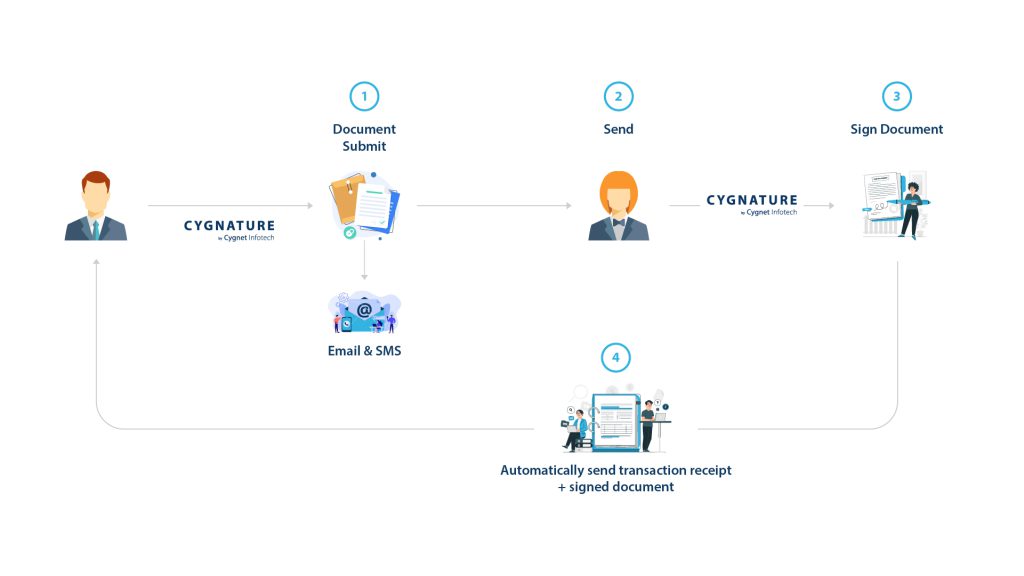 Digital Signature
A digital signature is secured. It works along with the electronic signature and relies on PKIs or public key infrastructure. Essentially a digital signature has certain incorporated encryption standards that helps to authenticate a person's identity. The digital signature is generally used when we need to authenticate and secure a document.
Digital signature undergoes validation by trust service providers and trusted certificate authorities and is hence, considered to be an authorised form of signature. This makes it more secure and authentic than an electronic signature.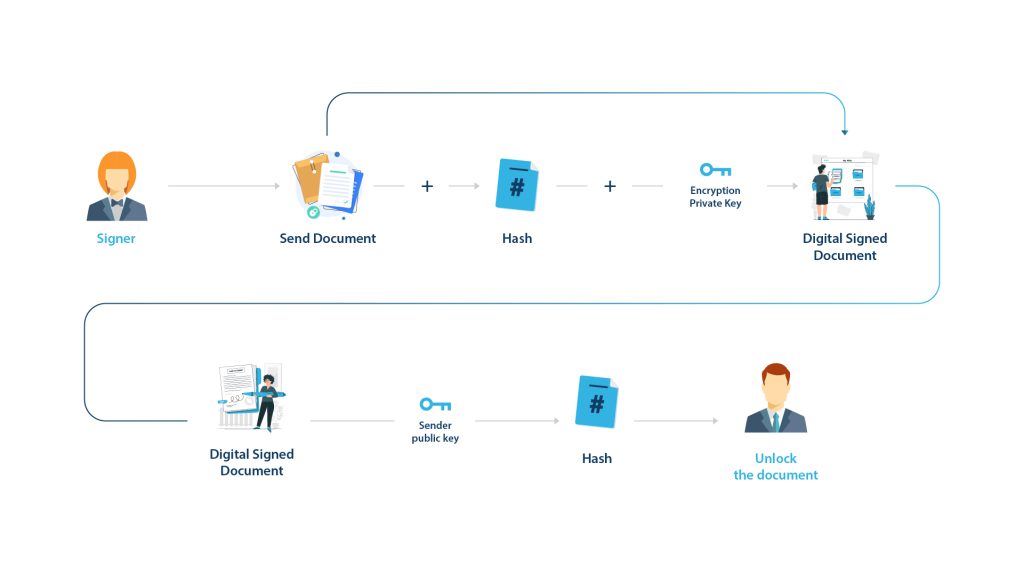 What documents are excluded from electronic signatures?
There are still a few places where a wet signature or non-electronic signature is still preferred over the electronic signature. For example, when a person files for bankruptcy, he has to use the wet signature as the electronic signature is not considered valid here.
Other instances where e-signatures and digital signatures are not allowed are:
Handwritten negotiable instruments other than cheques
Handwritten PoA or power-of-attorney
Handwritten trust deeds
Handwritten wills or any such testamentary dispositions
Handwritten contract for sale of or conveyance of any immovable property or in interest in such a property
Some countries are yet to embrace electronic signature, and, in those countries, the validity of the wet signature supersedes that of the electronic signature.
What is the state of electronic signature in 2021?
The electronic signature has evolved rapidly in the past decade. But the present conditions, with the whole world battling with a pandemic, has encouraged the adoption of the electronic signature. Even digital signatures have become more common now. Statistically, the digital signature market reached a global size of about $2.8million. It is expected to reach $14.1 billion by the year 2026.
COVID19 has been a catalyst. Activities like work from home, study from home, shop from home etc., has resulted in a huge surge in procurement of cloud-based tools, online platforms, mobile app creation, website optimization etc.
E-commerce companies have seen an aggressive growth since the onset of the pandemic. Along with these, companies offering online collaboration tools, electronic signature platforms etc., also witnessed an upsurge in demand as companies embarked on a search for new tools to smoothen business processes and accommodate remote employees.
Is electronic signature secure?
Electronic signatures are considered to be safer than wet signatures which can be easily forged, tampered with and misused. Electronic signatures come with certain in-built security layers that require authentication and a proof of transaction that is admissible in the court of law. Some factors that enhance the security of the electronic signature are:
Electronic records: All electronic signatures are backed by an electronic record. This creates an audit trail and is taken as proof of the transaction. This audit trail provides a complete history of the actions that were taken and includes details like when the document was opened, time taken by the user to view it, and the time when the document was electronically signed. If the signer agrees to enable location access, the geolocation of the signing of the document also becomes visible.
In case, the person putting the electronic signature on the document denies knowledge of the action, the presence of the audit data will help to resolve the objections raised.
Completion certificate: This includes certain details like the signature image of the concerned signers, time stamps of key events, IP addresses of individual signers etc. If required, this certificate can also be made to include further details like a consumer disclosure stating the signer's agreement to the use of an e-signature. However, this should be included as a separate document, if possible.
Tamper-proof seal: After all relevant signatories complete the signing process, the documents are sealed digitally by making use of a PKI, considered to be an industry-standard technology. This seal authenticates the validity of the e-signature and also proves that no tampering or altering of the document has taken place since the date of signing.
Generally, 3 types of e-signature security are implemented by service providers. These include:
Physical security wherein buildings and systems where the e-signature technology resides is securely protected
Platform security that helps to safeguard all system stored data and processes
Security certifications or processes that ensure that all e-signature service provider partners and employees follow the best practices for ensuring privacy and security
With the adoption of such tight security measures, there can be no doubt that e-signatures are much more secure than wet signatures.
When should you use electronic signature?
With the pandemic induced safety measures in place, physically obtaining signatures is almost impossible. Yet not getting the required signatures on time can prove costly to a business. Some instances that make using electronic signature seem like a better option are:
Businesses that are still following manual signature process
Businesses are experiencing delays in obtaining signatures
When extensive follow-ups with multiple people are required for getting the signatures
Employees face difficulty in finding signed documents
Long queues at the scanner, printer and photocopier
Majority of employees are working from home
Need for signatures that are legally binding
Make the signature tamper-proof
Employees are involved in doing repeated work
What is e-signature used for?
Today, everyone is right from Fortune 500 companies to hospitals and even freelancers and consultants, everyone is using e-signature. These signatures are being used for a variety of reasons when preparing the following documents:
Purchasing contracts, sales proposals, and processing invoices
Hiring and onboarding
Timesheets, rental agreements, and leases
NDAs or non-disclosure agreements, NCCs or non-compete agreements etc.
Tax documents, bank forms, insurance paperwork, school forms etc.
Product and model releases
Vendor agreements
Internal compliance
Permission slips
Expense reporting
The flexibility of the offered e-signature solutions enables all companies regardless of the size or the industrial sector involved to benefit from its adoption.
Today, businesses use e-signatures for a variety of reasons like:
Signing PDF contracts and other contracts electronically is faster and does not involve the transfer of the contract physically from one place to another
Reduction in paper usage makes it easy to store files digitally and enable their electronic tracking throughout their content management lifecycle
They provide additional legal protection especially in instances of a contract breach or breach of an NDA
The availability of digital tools facilitates the auto-integration of the e-signature into different document formats and templates to give users a quicker signing experience
The ease of use and the existing legal status make e-signature a safe bet. Businesses that are working with a limited staff, the ability to process e-signed documents results in a reduction of errors, eases employee workload and speeds up business processes.
How to choose the best electronic signature platform?
This can be a difficult choice to make since there are certain security concerns also attached. Some of the factors that need looking into are:
Intuitive user experience: Ease of use of the e-signature software platform is an important factor to consider. If users have to spend hours just understanding the working of the same, then it is best to look for another platform. The platform chosen should be simple and intuitive, designed to enable a good UX every time, come replete with handy features etc.
Integration with existing system software: Leveraging an e-signature platform that enables integration with frequently used apps will boost employee productivity. Solutions that offer flexible and powerful APIs to enable an intuitive and responsive e-signature experience will save company employees a lot of time.
Seamless mobile experience: The fast pace of businesses requires employees to manage, sign and send documents on the go. E-signature platforms that ensure a seamless mobile experience by offering apps native to all major OS. The level of compatibility achieved will ensure all employees complete their tasks on time.
Security: This is the important criterion for selecting the e-signature platform. Even though different platforms offer different security levels and implement different security measures, the thumb rule to choose is to look for SSL encryption and the provision of a detailed audit trail.
Regulatory compliances: All e-signature platforms have to comply with the rules and regulations applicable for your business.
Different e-signature players that offer some incredible signing platforms are:
DocuSign, with its strong focus on data storage and eSignature process security, its intuitiveness, ability to integrate easily with third-party apps for enhanced customization, is one of the better-known eSignature platforms available in the market, however, it is also expensive compared to its counterparts.
Cygnature is an award-winning eSignature platform that supports both digital and electronic signatures, is a globally complaint and compatible with all devices. Comparatively the most affordable solution among all, the platform also ensure security with blockchain technology.
SignNow is a simple, mobile-friendly, competitively priced eSignature software that has received innumerable awards for its reliability, straight-forward interface, ability to integrate and focused features.
PandaDoc is an award-winning comprehensive online e-signature software that is known for its easy to use and streamlined user interface.
HelloSign is known for offering competitive pricing, customer service, flexibility and customization in a single e-signature platform that is also compliant with e-signature laws of almost all major countries of the world.
These players are also looking at expanding their offerings. For example, some are integrating with storage platforms to enable easy signing, some offering document creation tools, PDF editing tools etc. The prices also vary based on the services offered. So before opting for one of these e-signature platforms, take a close look at the pricing.
Use Case Scenario
Begin your electronic signing journey with Cygnature
A secured signing solution for all businesses
FAQs
What are the different types of digital signature?
Based on the assurance offered, Digital signature can be of 3 types. They are:
SES or simple electronic signature
AES or advanced electronic or digital signature
QES or qualified advanced electronic or digital signature
How to check the validity of electronic signatures?
The validity of the digital signature can be checked by:
Open the DSC USB token tool
Login by clicking on the login button and inputting the required details
Input the unique token password
Open your certificate by double clicking on it
Click on the details tab
When the details tab opens, all details related to the certificate become visible to the user. The expiry date of the DSC is also mentioned here at the end.
What is the validity of the electronic signatures?
DSC or digital signature certificates are generally valid for a period of 1 to 2 years. It has to be renewed for a further of 1 or 2 years after it expires. But even to renew the validity of the DCS all related documents have to be resubmitted.
What is KYC?
KYC or know your customer is a mandatory process undertaken to ensure the security of the e-signature. It helps to verify the client's identity and to ensure that the concerned person is genuine. Processes included in the KYC include the verification of the:
Face
ID card
Address
Biometrics
Documents required for facilitating KYC verification for DSC can also be submitted online.
What is Aadhar eSign?
The Aadhar eSign is an online e-signature service that facilitates the Aadhar card holder to sign a document digitally. By signing the document after biometric verification and authentication using the One Time Password, users can do away with the system of submitting paper-based application forms of documents.
What is certificate authority?
A certificate authority is one who is entitled to issue digital signature certificates or DCS. The DSC helps to certify the ownership of the unique public key held by the owner of the certificate. This certificate authenticates and validates the digital signature of the person holding the DSC by matching the private key to the corresponding certified public key.