Reading Time:
3
minutes
RPA, or the robotic process automation process, is amongst the latest technologies that have completely transformed how humans work on repetitive tasks.
A survey conducted by Deloitte found that RPA is a proven and achievable solution, with more than 74% of companies and brands across the world planning to learn more about it in the next few years. It was also found that almost 22% are already piloting or incorporating RPA.
Automating HR operations and administrative tasks saves significant resources and time, which could be used more constructively in strategic planning, such as finding solutions to critical issues. This article will discuss everything you should know about RPA in HR and its benefits.
What is RPA in Human Resources?
RPA is an efficient way of automating HR operations, which enhances human resources data management abilities. It is a software bot that automates rule-based processes in the human resource department that needs little to no human interference.
This process primarily works by letting the robot do the repetitive tasks for the Human Resource employees. These tasks might include recruiting new talent, benefits enrolment, processing payroll, and compliance reporting, which requires repetitive and manual work.
Besides the enhanced accuracy and data processing speed, RPA is instrumental in downsizing the costs for HR-related practices.
RPA Benefits in Payroll and HR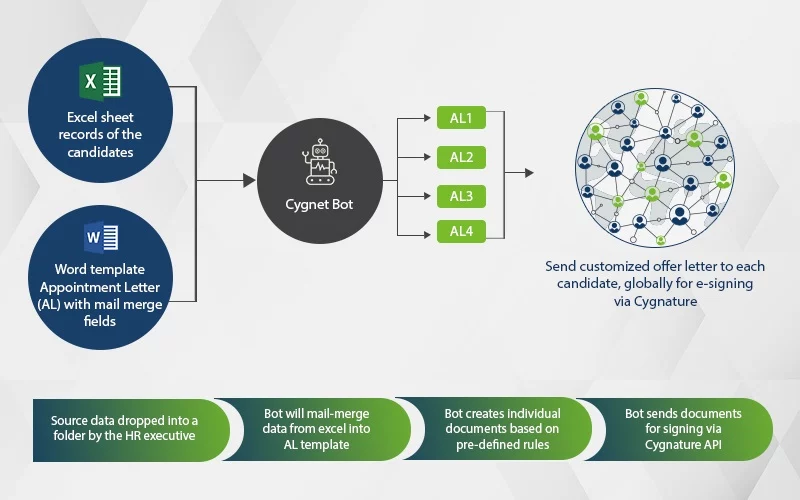 Generally, human resources play a significant role in all organizations as they support their employees and enhance the overall environment of the workspace.
Automating HR operations makes sure that staff are doing their jobs effectively. However, the vast amount of data management, such as filing, validating, and updating records, and the constant inrush of request processing can overwhelm human resource managers.
Using human resource automation, companies can compress workday procedures by automating monotonous tasks and allow managers to emphasize strategic and productive jobs for the company's growth.
The primary focus of RPA in HR operations is on tasks which were previously inaccessible via other extensive legacy systems.
Here are a few of the benefits of RPA in the workforce environment:
Enhanced Productivity and Accuracy
RPAs are equipped with pre-coded technology, which minimizes the chances of errors. Moreover, by allowing employees to concentrate more on urgent or preparatory tasks, this technology directly helps with the overall goals and the company's productivity.
The cost per effort or task in robotic processing automation is low when performed at scale. Companies can seamlessly scale down and up according to the requirements. They get to benefit from minimal wastage of time and effort.
RPA solutions are highly versatile and can follow the programmed process regardless of the deployment atmosphere.
With zero human interference and absence, the efficiency increases since bots can work 24*7.
Conclusion
The RPA industry is expected to growth and be worth of $30.85 billion by 2030 and is at an inflection point where, in the next few years, companies and businesses are bound to consider the advantages of RPA and implement it for business transformation.
By saving humans from repetitive tasks through this technology, automating HR operations will encourage better productivity and help businesses get an edge over their competitors.
Many HR departments across enterprises use Cygnature's blockchain-based e-Signing solution to speed up their documentation process. In order to enable HR managers to track and trace all organizational documents on a single platform, we at Cygnature offer robust features such as Contract Lifecycle Management (CLM), Bulk Signing, Live Signing, and e-Stamping features over the e-signing platform. 
Human Resource professionals can invite multiple signers to digitally sign the documents for quicker onboarding processes, appointment letters, payroll procedures, and other documents.
Book a free demo now to automate HR routine operations and get closures faster!