Reading Time:
5
minutes
During the COVID-19 many businesses are having issues in completing their documentation and paperwork. We had many queries by many businesses from across the globe on what is the importance of e-signatures and how Cygnature can help. We have coupled a few of them for your reference.
How to Sign Documents During COVID-19?
COVID-19 pandemic has forced employees to work from home. Businesses are struggling to sign documents and make critical decisions smoothly. During this pandemic, businesses need to switch to electronic signatures to keep their business running.
Electronic signing has been around for years, but many companies had ignored the same. But now there does not seem to be any other option to keep the business running other than e-signatures.
Signing documents via electronic signatures is the best way during this pandemic. Both parties can sign documents such as NDA's, Contracts, Agreements using such solutions while working from home and these signatures are safe too. You can easily connect to signers using webcam and microphone and sign documents in minutes from anywhere.
Are E-signatures Safe & Secure?
Yes, e-signatures are secure. While signing, e-signature technology can record each step of the signers. All interactions are 100% encrypted and sealed against tampering.
A digital signing solution with the security of blockchain technology like Cygnature safeguards the legality, unforgeability, and imitability of documents. This technology highly secures and safeguards each document. It is an easy to use cloud solution where all your signature trails are stored securely on a blockchain making it safe and tamper-proof.
Are E-Signatures Legal?
Yes, e-signatures are legal. Digital signatures are governed by the Law; hence you need to refer to the law specific to your country to get more details about the legal policy.
What are the Core Features of the Best E-signing Solution?
The best e-signing solution helps to keep your business running even during uncertain times. It eliminates paper-based processes, reduces operational costs, and enables your customers to choose from a wide range of signing options allowing you to sign from any device, anytime. A good e-sign solution will also have the options of multiple signatures to choose from and allows the owner of the document to assign documents to the signer.
Cygnature is powered by Blockchain technology that can make it more secure and tamper-evident than other e-sign solutions in the market. The signer can also choose the type of signature based on the level of authentication and confidentiality of the document. All the details of the signer are captured right from opening the documents, to signing it and submitting it. It will also have proof if the document was trying to be tampered with.
What are the different types of E-signatures?
The different types of e-signatures are:
Electronic Signatures
Digital Signatures
Biometric Signatures
Live Signatures
Can we Sign Agreements using E-signatures & will they be Valid in the Court of Law?
Yes, you can sign agreements, except some exclusions. Otherwise, they will be valid in the court of law.
Can you List down the Documents which cannot be Signed Digitally?
A negotiable instrument as defined in section 13 of the Negotiable Instruments Act, 1881;
A power-of-attorney as defined in section 1A of the Powers-of-Attorney Act, 1882;
A trust as defined in section 3 of the Indian Trusts Act, 1882;
A will as defined in clause (h) of section 2 of the Indian Succession Act, 1925 including any other testamentary disposition by whatever name called;
Any contract for the sale or conveyance of immovable property or any interest in such property;
Any such class of documents or transactions may be notified by the Government.
What is Cygnature?
Cygnature is a blockchain-enabled document signing and authentication solution that is easy to use and is more secure than other e-sign solutions in the market. It is multi-level security that allows a robust mechanism to permit access with different security clearances such as E-signature hardware key, biometrics, video/image proof, Aadhar KYC and/or OTP authentication, etc.
How Cygnature can keep your business running during COVID-19?
If you are using Cygnature, you must be sending and signing documents for approval without any halts. It is packed with features such as:
Electronic, Digital & Bio-metric signature types
Complies with global digital signature legislation and regulations.
All your signature trails are stored on a blockchain making it tamper-proof.
Each document has a digital audit trail that records geo coordinates, browser/device, timestamp, etc.
Its mobile app allows signing documents from anywhere within seconds.
Cygnature also supports automated bulk signing of contracts, invoices, work order, approvals, etc.
Is Cygnature GDPR complaint?
Yes, Cygnature is GDPR Compliant.
What is the Evidence of the E-Signature?
If you opt for Cygnature, it provides you with a certificate of signing after you sign any document.
What is a Certificate of Signing?
There are usually two people involved in signing a document- the owner of the document and the signer of the documents. The owner uploads the document, while the signer signs it. There is a possibility that sometimes the signer and the owner are the same person. So, when the process of signing the document is complete a certificate of completion is sent to the signer and the owner to acknowledge the signing activity.
What is a Signers Certificate & what details does it have?
A Signer's certificate is what every signer receives after signing a document that has details of the audit trail of the document signing process along with all the records of the signer while signing the document like location, timestamp, browser, IP, Google Map, etc. In the signer's certificate, you will be able to see the document name, the document ID, date when it was sent, the entire signing process. The QR code is also mentioned in the document. Blockchain stamping which includes the timestamp of the document being signed, the document hash that is created while document signing, and the transaction hash which is created only after the document signing process is done successfully.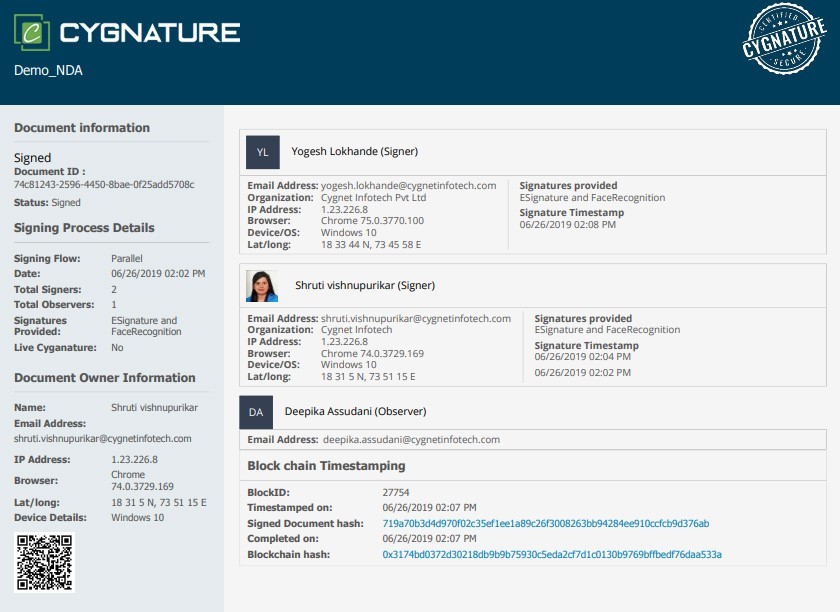 What is LIVE Cygnature?
LIVE Signing is a feature by Cygnature. In LIVE signing users feel like they are signing as if in person with the help of a webcam. The signers can see, talk to each other and can also see each other's screen while signing the documents. This ensures that only the authorized person is signing the document. You can also record the screen while the signatures are been done, as proof for later reference. It is also voice-enabled in case the other person has any query in any section you can clarify the same through the voice. LIVE signature also allows recording to be done in the app.
Does Cygnature Support Multi-language?
Currently Cygnature supports only English, soon we will be adding other languages too.
Closing Note
Cygnature has helped many businesses ease their processes and documentation. During this COVID-19 pandemic situation, it has turned out to be the best solution in closing deals and signing agreements even from remote locations.